Recently CSKL Health Care Practice Group Leader Eric Frisch had the opportunity to interview R&D Strategic Solutions' James McGarity. James and Eric discussed potential effects of the COVID-19 pandemic on jury pools and seated juries.
James, a nationally renowned Jury Consultant, is a partner in R&D Strategic Solutions. James has been studying jury behavior and trial strategy since 1999, and is a recognized expert in medical malpractice cases. In addition to consulting on more than two thousand medical malpractice cases, James has consulted on many other civil and criminal matters, including product liability, premises liability, copyright/patent litigation, white-collar crime, and many other types of litigation in venues across the country. Mr. McGarity has assisted clients with jury research, case strategy preparation, jury selection, voir dire question development, witness preparation, and post-verdict analyses. He is an expert in research methodology and survey design, and has been a speaker at numerous CLE events and legal conferences, including the Alabama Bar Institute for Continuing Legal Education, the Arkansas Association of Defense Counsel, the Georgia Bar Association, the Virginia Association of Defense Attorneys (VADA), the Memphis Bar Association, Emory University School of Law, and the University of Montana School of Law Advanced Trial Advocacy Program. James has also appeared frequently on Court TV, as a guest expert in jury behavior on shows hosted by Yodit Tewolde, Julie Grant, Seema Iyer, and Vince Politan, covering high profile trials across the country. R&D Strategic Solutions.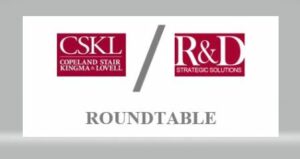 ERIC:    James, professionally, how is your pandemic going? Have you been working on jury research projects?
JAMES:    Our work slowed down a bit during the first few months of the pandemic, but has picked up substantially in the last few months. We have been doing jury research projects over the last year, but quite a bit more since the beginning of the year.
ERIC:    From the exercises, what is the general mood of the jury pool out there?
JAMES:    Uncertainty is the general mood. Jurors are keeping a closer eye on safety and safety related issues, having lived through such a significant event just this far, and we don't know when it will be over for sure. There is also uncertainty about when the pandemic is going to end, how we will come out of it financially and in terms of our health, and how our economy will rebound from the lockdown periods. There is even more focused uncertainty among the population of individuals who had the greatest concern about their ability to withstand the financial impact of the pandemic (i.e., job furloughs, business interruption, survivability of certain industries, etc.). Many are also concerned about the effectiveness of the vaccine as well as any potential future problems associated with any side effects, and forthcoming variants of the virus. There is just a lot of uncertainty in everyone's minds today. But at the end of the day, jurors want reassurances that everyone is making their own safety and the safety of others a priority. 
ERIC:    We have seen significant life events affect jurors in the past, but usually the effect fades over time. Things like the 9/11 attacks come to mind. Is the pandemic and the related "lockdowns" the same or different that past life events for jurors?
JAMES:    Different, because as significant as other life events like 9/11 have been, this pandemic is more personalized for us because it has touched each of our lives individually in a more "real" way; we've been confined to our homes, centers of business have been shut down, our schools and jobs have been turned upside down, not to mention the many people each of us know who have been diagnosed with COVID-19 with differing recovery results. It's been a much more impactful event for everyone (not to minimize the significance of major events like 9/11).
ERIC:    Let's talk about civil juries. Where are jurors' heads in terms of assessing liability, causation, and damages these days?
JAMES:    Safety and taking active steps to protect themselves and others is a key issue. Part of this pandemic experience has imbued in us how important compliance with safety rules and practices truly is—because so much of the spread and duration of the virus has been ascribed to people not being compliant with safe practices (e.g., safe distancing, hand sanitizing, staying home, wearing masks, etc.). The reported drop in cases has also been, for many, attributed to the more recent increased compliance with safety guidelines. It is important to note, however, that defendants are not the only ones jurors are "putting under the microscope" more in civil cases—plaintiffs are experiencing at least as much scrutiny today as jurors examine which parties exercised the best judgment when applying their knowledge and control in the circumstances of each case. Damages are also trending upward as jurors are taking into account the uncertainty they are living with—they want to make sure that their damage awards cover any future potential ongoing developments (e.g., need for future treatments, subsequent declines in condition, unforeseen complications, etc.)
ERIC:    Are you seeing any regional differences? For example, a jurors' feelings about civil justice being affected by where they spent their pandemic?
JAMES:    Yes. Jurors in the South, Southwest and Southeast tend to be a little less conservative about following the "letter of the law" when it comes to following the COVID guidelines, and often see them as unfair or unnecessary intrusions on their personal lives.
 ERIC:    As you know, my focus is on professional liability, including health care providers. What are you seeing in terms of jurors' attitudes towards professionals and healthcare?
JAMES:  Jurors have an increased appreciation of healthcare professionals, as they have been working very hard to treat COVID-19 patients and now getting people vaccinated. But attorneys in your area of practice need to proceed with caution, as there has been a lot of talk amongst professional liability defense lawyers in health care of a "halo effect" that favors healthcare professionals (where someone is less vulnerable to criticisms because they are held in a more favorable light by others). While healthcare providers may be held in higher esteem by jurors, this does NOT equate to a "free pass" to a defense verdict in medical malpractice cases. Jurors still evaluate each case on its own merits, and as I said earlier, jurors want to know how carefully each party followed safety practices. Also, trials have been delayed during the pandemic, so we haven't yet seen any reliable evidence that tells us to what extent healthcare providers are seeing the benefits of any "halo effect."
ERIC:    Is there one thing on jurors' minds that comes up about the pandemic?
JAMES:    One interesting tidbit, the question "How concerned are you about your/your family's financial stability as a result of the impact of the COVID-19 pandemic?" has been predictive of verdict orientation in just about every type of case we've researched (med mal, premises liability, product liability, even securities cases) since the start of the pandemic. Those who are "greatly" and "somewhat" concerned tend to be plaintiff-oriented, as they have greater empathy for plaintiffs.
ERIC:    From all of your research, what is the big take-home theme in terms of jury research going forward?
JAMES:    Safety first. In a civil dispute, jurors will still evaluate the disparity between the parties' relative knowledge of and control over the circumstances that produced the dispute. But in this COVID-19/pandemic era, the party that is perceived to have "gone the extra mile" in terms of looking out for others and foreseeing the potential for danger will most likely be the party that jurors are more motivated to fight for.